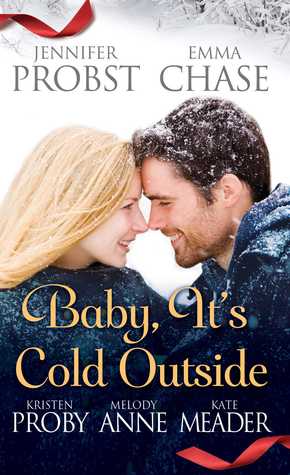 eARC received via NetGalley in exchange for an honest review
Release Date: October 28th 2014
Publisher: Pocket Books
Description:
New York Times and USA TODAY bestselling indie authors Jennifer Probst, Emma Chase, Kristen Proby, Melody Anne, and debut author Kate Meader come together to write a sizzling romance anthology.
Outside it may be frosty, so turn the heat way up with these stories of desire!
Can a determined woman executive and a playboy billionaire survive being stranded together in a snowstorm? Jennifer Probst depicts an encounter almost too hot to handle...
Drew and Kate play an encore to Tangled in this sexy take on a "Christmas Carol" by Emma Chase. When a Christmas Eve argument condemns Drew to a troubled night, three dream women teach him that no gift could be more tantalizing than Kate...
With Kristen Proby, ski slopes are quite delightful. Grace Douglas is sure she'll never learn to ski, but instructor Jacob Baxter could teach her lessons of a different kind...
Can a southern California transplant survive Montana's deep snows?Melody Anne, author of the bestselling Andersons series, melts the icy drifts completely away with the heat between sexy Hawk Winchester and brand-new teacher Natalie Duncan...
What could be hotter than a firefighter? Kate Meader shows how, as Beck Rivera and heiress-turned-tattoo-artist Lucy Cochrane discover, nothing ignites holiday flames like rekindling a lost love...
My Opinion
Overall this was an enjoyable set of novellas. Some were better than others, but in general they were good wintry reads. The lengths were about right most of the time, the settings were good and I liked most of the characters. This may be for you if you want quick romances for winter.
Searching for You - Jennifer Probst This was a cute read. It moved a bit too quickly for my liking, even for a novella, but it was enjoyable.
It's a Wonderful Tangled Christmas Carol - Emma Chase This was okay. It started off well and I was intrigued but then it became really, really generic. It's a story I've heard over and over and it didn't have any variation. It was a Christmassy read but nothing amazing.
Saving Grace - Kristen Proby This was my favourite so far. Despite the British references which are a pet peeve of mine when overdone, I found this to be a fun flirty read. It made me smile and laugh and although not set around Christmas it's a great winter novella.
Safe In His Arms - Melody Anne One again this was only an okay read. It was sweet and a little festive but I didn't feel much connection. The story was once again a little samey.
Rekindle the Flame - Kate Meader This one grew on me. It was a little longer than all of the others and I think it's become my second favourite in the anthology. Things were more developed and I believed in the emotions better than the others.