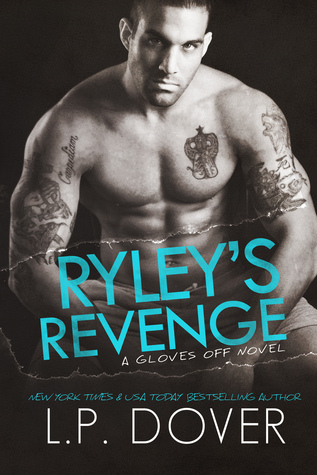 eARC received via author in exchange for an honest review
Release Date: December 1st 2014
Description:
UFC Middleweight fighter, Ryley Jameson, swore it would never happen again. He was done with his ex, and over the pain she'd inflicted when she left him. At least, that's what he tells people. Maybe if he says it enough, he'll begin to believe it himself.
Regretting her decision to let Ryley go, Ashleigh Warren comes back into town and confronts him. Holding only one secret back, she puts the rest on the line and asks for a second chance. Too bad he's not going to let her off easy.
Camden Jameson loves his twin brother, but his jealousy runs deep. They may be identical in looks, but that's where the similarities end. When Ashleigh comes back into Ryley's life, Camden has the perfect opportunity for revenge. Two birds, one stone. A journey to the Dark Side affects them all, but only one will truly get their revenge. Only one will come out on top.
My Opinion
L.P Dover has done it again! I have been highly anticipating Ryley's Revenge since I finished Tyler's book and it didn't disappoint. I loved Ryley in Gloves Off 1, even if I hated the ending for making me wait. However it was totally worth it and I'm glad I trusted the author to complete the story satisfyingly.
Once more, this books is filled with plenty of drama, MMA-ness (probably not a word), and hot romance with brilliant characters who make you you love them. It moves at a fast pace and just like all of the other books it leaves you wanting more after every chapter so you can't stop reading. I knew I shouldn't have started this so late in the evening but I had to because I couldn't put it off anymore.
There is a mixture of both light and dark in Ryley's Revenge, and I thought the emotions and how the intensity built was believable and effective with hooking me. I thought Ryley grew brilliantly and fitted into the roll with Ashleigh. I loved that he steps up and is the good twin. You can really feel for him and I loved that he was mostly good but with a sexy, devilish side.
Similarly, I enjoyed how the it unfolded. I will admit that I would have liked more drama between Ryley and Ashleigh and the start and for him to punish her more, but I can understand why he didn't. I think Camdem kept things interesting and you really grow to see an extreme side of him that makes you dislike him--I can't wait for his story to see if he changes.
Overall, I can't wait for Paxton's book now! I love this series and hate that I've got to wait until the end of December. I'd highly recommend any book by L.P. Dover.
GOODREADS: https://www.goodreads.com/book/show/22882838-ryley-s-revenge
Amazon: http://amzn.to/1xG4bCi
B&N: http://bit.ly/1BsmNtw
ITunes: http://bit.ly/1EMlJig
Smashwords: http://bit.ly/1vaBxdz
Excerpt
Smile fading, Camden whipped off his sunglasses and stood, glaring straight at me. For years, it was like looking at a mirror when my brother was around. Now, I could barely tell who he was.
"You want to talk about heading down the wrong path? Okay, let's do this. What about you? The last thing you need to do is get caught up with that bitch again. Did you forget that she left you for someone else? I'm trying to help you, brother." His arms flew out to the sides. "You fucked her, she fucked you over . . . now move on."
"Where's my phone?" I asked, stressing each word.
Camden huffed and pointed toward the house. "It's in your room. I'm warning you, don't get involved with her."
At first, I thought maybe he was trying to protect me, but looking into his calculating blue eyes, that
wasn't it at all. He had seriously turned into someone else. "And I'm warning you," I snarled, standing nose to nose with him. He didn't back down and I sure as hell wasn't going to either. "Stay out of my life and leave Ashleigh alone. I don't want to see or hear about you being anywhere near her. You got that?"
"So that's it. You're taking her back?" he asked, sounding disgusted.
"That's none of your business." Turning around, I stormed toward the house and yelled over my shoulder. "Just stay away from her!"
About the Author:
USA Today Bestselling author, L.P. Dover, is a southern belle residing in North Carolina along with her husband and two beautiful girls. Before she even began her literary journey she worked in Periodontics enjoying the wonderment of dental surgeries. Not only does she love to write, but she loves to play tennis, go on mountain hikes, white water rafting, and you can't forget the passion for singing. Her two number one fans expect a concert each and every night before bedtime and those songs usually consist of Christmas carols.
Aside from being a wife and mother, L.P. Dover has written over nine novels including her Forever Fae series, the Second Chances series, and her standalone novel, Love, Lies, and Deception. Her favorite genre to read is romantic suspense and she also loves writing it. However, if she had to choose a setting to live in it would have to be with her faeries in the Land of the Fae.
Links
Facebook: https://www.facebook.com/lpdover
Goodreads: https://www.goodreads.com/author/show/6526309.L_P_Dover
Website: http://www.lpdover.com/
Twitter https://twitter.com/LPDover
Pinterest: http://www.pinterest.com/LPDover/