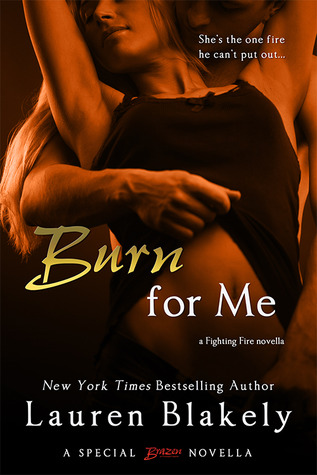 ebook downloaded from Amazon for free.
Release Date: June 19th 2014
Publisher: Entangled (Brzen)
Description:
She's the one fire he can't put out…
Jamie Lansing has had it bad for firefighter Smith Grayson for as long as they've been friends. Yes, he's ridiculously charming and she might stare a little too long at his abs, but his dirty-talking, rough-around-the-edges ways aren't for her. Plus, she knows that as a serial dater, Smith isn't the type to settle down. But then a terrible, fantastic, mind-blowing mistake leaves her body craving more than one night.
Smith Grayson has only ever had eyes for one woman in town—his best friend Jamie. But convincing her a relationship between them will work is next to impossible with her refusing to see beyond his past. But when she asks for a week of no-strings-attached sex to get him out of her system, Smith knows this is his one chance to prove he's not just the man she needs in her bed, but the man she needs in her life.
My Opinion
When I saw this on Amazon for free I thought I'd give it a go. I had previously passed over it on NetGalley because it didn't quite hook me enough to be obligated to review it. However, when it came with no strings attached, I decided to try it, seeing as I've read work by this author before.
This was a quick, easy read that kept me turning pages. It was a standard, typical romance but that's what I was looking for as I've been reading too many thrillers lately. I really liked Smith, he made the book for me. I liked his lines and the playfulness he had. I'm not sure I can say the same thing about Jamie, though. I never really felt a connection with her as her emotions irritated me. I felt she was over the top with her reactions and all of her opinions were based upon her sisters problems, rather than her own. She jumped to conclusions way too quickly so I found it hard to feel sorry for her.
Overall though, if you want a lighthearted, quick romance you may want to check this out. It wouldn't be top of the novellas I'd recommend but it's still and enjoyable read.