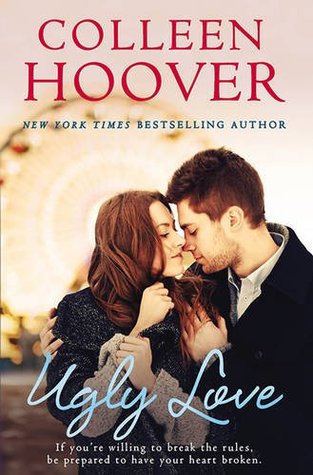 Paperback purchased by myself.
Release Date: August 5th 2014
Publisher: Simon & Schuster
Description:
An unforgettable love story that breaks all the rules.
When Tate Collins finds airline pilot Miles Archer passed out in front of her apartment door, it is definitely not love at first sight. In fact, they wouldn't even consider themselves friends. But what they do have is an undeniable mutual attraction.
He doesn't want love and she doesn't have time for a relationship, but their chemistry cannot be ignored. Once their desires are out in the open, they realise they have the perfect set-up, as long as Tate can stick to two rules - never ask about the past and don't expect a future.
Tate convinces herslelf she's ok with it, but soon realises that it's harder than she thought. Will she be able to say no to her sexy pilot when he lives just next door?
This new romance from Colleen Hoover will have you laughing and crying in equal measure - definitely her best book yet!
My Opinion
This is the first Colleen Hoover book I have read. She's been on my to-read list for a while but despite that, and even though I follow her on her social media, I've never rushed to buy her books. There's no reason for that, I just haven't. So, I will admit that I bought Ugly Love because I needed to make up my order to get free postage on Amazon and it was exactly the right price. However, I'm glad I needed to spend an extra £3 to get that as this book was great and I'm certain it won't be the last book I read by Collen Hoover.
I've read many reviews that this author brings people to tears, so I told myself I wasn't going to cry. I refused to let it affect me, but boy was I wrong. Although there weren't actual tears, it made me emotional. Colleen's writing worked its way into my heart despite how much I decided to distance myself. She created characters you care about and want to love. You can't help but be drawn into their story and feel everything they do. It felt like I was right there with them and your heart routes for them throughout the whole book as you hope they get the ending the deserve.
As well as this I'd heard that the book is written in two POV, with Miles' being written six years earlier. I was scared that this would leave me detached from Miles but I'm glad I was proved wrong. The time difference worked extremely well as you got to see Miles' troubles unfold. It was also written in a unique way that you'll have to read to experience the full effect. My heart broke for Miles and it just made me vouch for him even more.
Overall I didn't know what I was expecting from this author when this book arrived. I'd heard a lot of great things and because she started off as an indie she interested me even more. Ugly Love definitely didn't disappoint and I will certainly be reading more by this author.