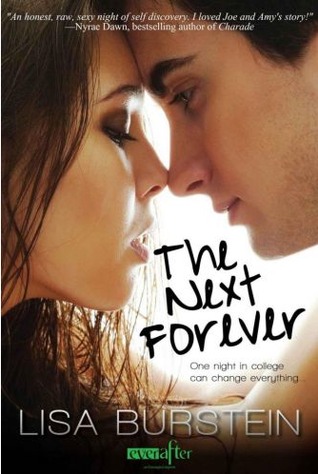 ebook downloaded for free from Amazon
Release Date: January 13th 2013
Publisher: Entangled Publishing (Everafter)
Description:
One night in college can change everything…
Away at college, Amy just wants one night alone without her high school sweetheart, Joe. So when he invites her to go to the library, she heads off on her own instead. How she ended up at a house party with the mysterious bad-boy Trevor is another story…
Joe so isn't going to the library. He needs space from Amy, too, so he's decided to rush a fraternity, to get back the swagger he had in high school. But it doesn't take long for the brothers to invite him to the real rush here the beer is flowing and one particular girl has set her eyes on Joe.
Over the course of one wild night, both Amy and Joe will have to decide if their futures belong with two new people, or whether the next forever will have their first loves in it.
My Opinion
This was an okay read but I didn't feel much for it. This might be because it follows on from Pretty Amy--something I've only just found out--so it would have probably made more sense if I had. As it stands though, there didn't seem to be much depth or story behind it and I couldn't engage with the characters. It was all right to break up time and it was good for a freebie but I have read better novellas that I could connect and engage with.