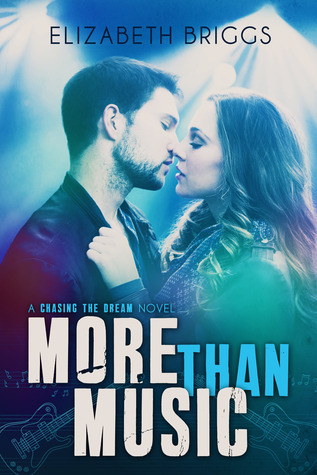 eARC received via NetGalley in exchange for an honest review
Release Date: June 17th 2014
Description:
Music major Maddie Taylor seems to have her life all figured out. She's just finished her junior year of college, has a summer internship lined up with the LA Philharmonic, and plans to go to grad school to write movie scores. Only her roommates know she practices guitar every night and secretly dreams of a louder life. But geeky girls like her don't get to be rock stars.
Tattooed singer Jared Cross has a new girl every week, but when he catches Maddie playing one of his songs, she attracts his attention in an unexpected way. His band needs a fourth member for The Sound, a reality TV show competition—and he wants her. Though Maddie refuses to be another notch on Jared's bedpost, she agrees to risk everything for the chance to be a rock star.
Once on the show, Maddie discovers there's more to Jared behind his flirty smile, and with each performance their attraction becomes impossible to ignore. When the show pressures Jared to flaunt his player image, they're forced to keep their relationship secret, but Maddie can't help but want something real.
As the competition heats up, Jared will do whatever it takes for his band to win, and Maddie must decide if following her dream is worth losing her heart.
My Opinion
I'll be honest, when I first saw this book on NetGalley I skipped over it. I read the blurb and thought "nope, not for me." However, yesterday I was bored and had couldn't find a book on my shelf I wanted to read so decided to give this a try and now that I have, I'm glad I did. I didn't expect to be as engaged and hooked on the book as I was and I definitely didn't think I'd be up until 2am telling myself I'd only read one more chapter until I finished it.
More Than Music, although pretty similar to other books I have read with rock stars in the romance and music competition elements, was an enjoyable read and I think this was mostly down to the characters. The bonds between them were crafted well and they were believable. I liked the slightly nerdy twist on the band and the geeky side to the guys when they were around each other. The brotherly relationship was great and made all the more believable by the aforementioned.
As well as this, I liked the relationship and the conversations between Jared an Maddie. There were a lot of scenes that made me smile and laugh, which was a pleasant surprise. The speech in this book felt natural and I could relate to the characters well. I thought the author did a great job of capturing their age in a way that was engaging and believable.
There are a lot of music references in More Than Music obviously but for once I actually knew the songs and artists the author was talking about. Normally I read books with obscure bands or dated music but this book made a nice change as there was both modern and older music that I knew.
The only complaint I have is that I would have liked more originality with the competition they were entering. The Sound, is basically The Voice with a name change. Everything about it was the same--from auditions to the battles to the live shows and I would have liked things to have differed a bit more.
Overall, I didn't expect to like More Than Music but in the end I couldn't put it down. For me the relationships between the characters made this book and it kept a smile on my face the whole way through.