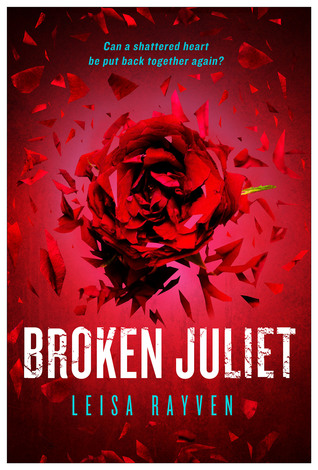 eARC received via NetGalley in exchange for an honest review
Release Date: October 22nd 2015
Publisher: Pan Macmillan
Description:
How do you fix a love that's been broken beyond repair?

For years, Cassie Taylor tried to forget about Ethan Holt. He was the one great love of her life, and when he failed to return her love, a part of her died forever. Or so she thought. Now she and Ethan are sharing a Broadway stage, and he's determined to win her back. Claiming to be a changed man, he's finally able to say all the things she needed to hear years ago, but can she believe him? What makes this time different from all his other broken promises?

Ethan knows he can't change their tumultuous past, but if he's going to have any chance of being with the woman he loves, he'll need to convince Cassie that her future belongs with him.
My Opinion
I've waited awhile to read Broken Juliet. After enjoying Bad Romeo I was intrigued to see whether the characters got their happy ending and how it would come about. Although I enjoyed this book, there were personal issues I had with it.

I did refresh my memory before diving straight into this book. Like I said, it had been awhile and I'd recommend doing the same. Broken Juliet picks up the story straight away with little easing you back into the characters or the plot. It's something I was thankful of because I hate repetitive sequels.

Moreover, I thought the pacing was good and it did hold my attention well. I liked watching the characters change, grow, and develop. I thought the growth was set at a believable speed and I'm glad Cassie didn't give instant forgiveness or magically become put back together from a few emails.

Split into two time periods (present day and five to three years earlier), the book is more like two stories in one. Although I think it worked and gave a good insight into the characters' lives as a whole so you could understand how they reached the present day, I will admit it has split my opinion. I did find myself becoming more bored with the present chapters. I preferred the ones taking place in the past. I think the main reason for this was because there was more emotion there for me. I didn't really feel a spark or the same passion in the present day and it wasn't as interesting to read about. The present was about Cassie and Ethan dealing with the consequences of past decisions, whereas they actually lived them in them in second part of the book. That was more captivating to me.

The only other slight things that niggled me were the sex and the ending. First of all, there was way to much sex. For me, this book didn't need it so often. It became repetitive and because I wasn't feeling a spark between them, it didn't work for me. I needed an emotional connection and desire for me to want to read about so much intimacy. In Broken Juliet I felt it detracted. Secondly, I didn't find the ending very satisfying. It wasn't a nice gradual finality, but rather quite abrupt. It didn't feel like their story was over.

Overall though, I did enjoy Broken Juliet. I think Bad Romeo was better, but it was still a good read.