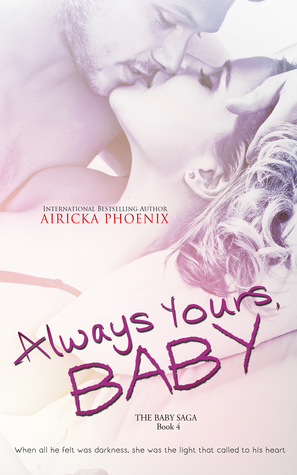 eARC received from the author in exchange for an honest review
Release Date: May 25th 2015
Publisher: Self-published
Description:
How could someone so pure want filth like him?
Damon Comb was no stranger to pain, hunger, loneliness, and abandonment. Being given a family that would die for one another didn't erase six years of torture. It didn't take away the nightmares. She did. She was everything someone like him should never be allowed. She was goodness and strength and she made him human.
How could someone so broken complete her?
Willa McClain had it all, a family that adored each other, the love of an entire town and a future she worked her butt off to get. But all she wanted was the boy with the sad blue eyes and the crooked smile. He was her best friend, her protector and the only one who really understood her.
How could a love like theirs be extinguished?
But nothing ever lasted forever. Damon knew better than anyone how quickly the tides could change. Can he keep his past at bay before it consumes the only light in his dark world? Can he finally tell Willa the truth, or will his fears tear them apart forever?
How could love so strong ever fail?
My Opinion
This is the book I've been eagerly waiting for. I've loved Willa and Damon since they were introduced in Bye-Bye Baby and couldn't wait to start their story.
Willa and Damon's bond is something special. Unlike with the other books they've grown up together and been in love for nineteen years without telling each other. That love has grown and evolved as they've grown up and because you see this in the other books it's easy to understand and feel the strength of their emotions for one another. They've been tied at the hip their whole lives and it makes this a touching read because of the strength of their emotions.
When the author combines this with Damon's troubled past as well and the guilt and lack of self-worth it tugged on my heart strings. He's a great guy and I hated that he felt that way about himself. Both Willa and Damon are easy characters to love and engage with, and I think the author did them justice.
As for the story it was a sweet read until the tension in the end. Whilst parts were predictable I didn't expect the twists near the end. I knew things were going too well and something was going to happen but I could never figure out what. The book was paced well and held my interest just like all of the others.
Overall, I started this series with a gamble. Books centring around babies aren't usually my thing, but I love the tightness of this author's cast. They're enjoyable reads with great characters.
a Rafflecopter giveaway
For a limited time you can get ALWAYS YOURS, BABY and the previous books in the series for just .99 cents each!
BUY LINKS FOR PREVIOUS TITLES IN THE SERIES:
Forever His Baby *Sloan & Lily* (Book 1):
Bye-Bye Baby *Cole & Beth* (Book 2):
Be My Baby *Calla & Jared* (Book 3):
AUTHOR INFORMATION:
Airicka Phoenix's Bio:
Airicka Phoenix is a romance junkie with an incurable addiction to chocolate. She is also a prolific author of several novels written for young adult and new adult romance addicts who love bad boys, hot kisses and a gritty plot. Airicka prides herself in producing quality material her readers can fall in love with again and again.
When she's not hard at work bleeding words onto paper, Airicka can be found cuddling with her family, reading, watching TV shows, or just finding excuses not to do chores.
Be the first for giveaways, teasers and upcoming releases by joining Airicka's newsletter on her website
www.AirickaPhoenix.com