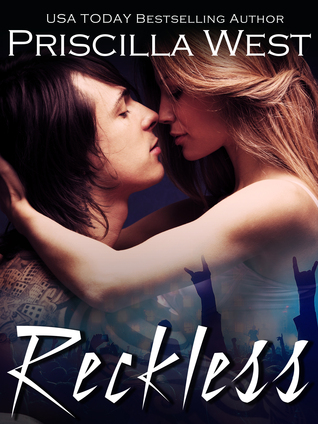 eARC received via NetGalley in exchange for an honest review
Release Date: August 4th 2014
Description:
Everything about him warned me to stay away.
I'd seen bad boys before, but he had it all and more. The rippling muscles covered in tatts, the piercing eyes hiding dark secrets, the silky voice that could make a girl come with just a whisper . . .
He was exactly the type of guy that would get me in trouble, but when he jumped off the stage, inked skin glistening with sweat and breathed his seductive words into my ear, I couldn't resist the temptation.
It was supposed to be the best one-night stand of my life, but fate didn't let it play out that way. Things happened. I got upset. I got hasty. And worst of all, I got reckless.
After that disaster, I thought it was the last I'd see of him. But what I didn't know was that I'd started something.
Something that could shatter the very thing I had worked so hard to protect.
I should have known back then that the most seductive things in life are also the most dangerous.
My Opinion
After reading Wrecked by this author earlier this year when I saw her new series up on NetGalley I had to give it a go. I will admit rock stars aren't my favourite type of bad boy but I liked the author's style and this book delivered just as much as Wrecked.
I found myself unable to stop reading Reckless and I had a hard time putting it down when I needed to. The story was paced well and engaging the whole way through. There wasn't one point where I thought it was dragging which is unusual for a romance book.
I also liked the band side of things surprisingly. The group felt like a tight knit bunch of people and the bonds between them were believable. I also liked that the author didn't go over the top with the rock star stereotypes. For me, Jax was quite unique and different from romances I had read in this genre--you can't help but love him.
I will admit that Riley did get on my nerves sometimes. I felt there was too much of a contrast between "badass Riley" and fearful of her past, nervous Riley. I loved her when she was strong but when she was weak I found it annoying because it was such a difference. Saying that though, I did like how the author concealed their secrets until the end--especially Jax's. I kept trying to guess what had happened to him and although I was close, it surprised me when it was revealed.
That point leads me onto the ending. I knew when I requested this book that there was a cliffhanger and from previous experience I knew it was probably going to frustrate me. Surprisingly though, I didn't find it as bad as Wrecked. Of course, I want to read more but it wasn't as bad as I expected.
Overall, I really enjoyed Reckless. It held my attention the whole way through and I'm definitely going to have to check out more of this author's work.