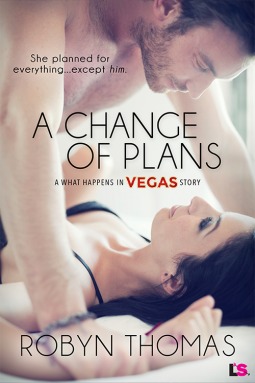 eARC received via NetGalley in exchange for an honest review
Release Date: June 30th 2015
Publisher: Lovestruck (Entangled Publishing)
Description:
Sara Greaves has been planning her perfect wedding since she was five. Instead, she's dumped by her fiancé and meets Ethan Monroe—Mr. Dall, Dark, And Anti-Marriage—who bets that she could marry any guy in Vegas and make it work. Except now Ethan has a hangover, a wedding band, and a sexy, gorgeous bride for the next month. He''ll have to convince the new Mrs. Monroe that marriage is a crock....and hope like hell that his little change of plans doesn't turn into a change of heart.
My Opinion
I wanted to like this, I really did. The idea sounded interesting and it hinted at comedy and a steamy romance. However, even though this is only a novella, it's taken me a few days to get through.
A Change of Plans started off well. I liked that it began with Sara picking up and leaving everything behind to head to Vegas to be daring. It was a bold move and I wanted to know how things would play out. Similarly, when Ethan got involved things started to become even more interesting.
However, unfortunately it didn't last for me. I found things moved too slowly and there were a lot of events that felt irrelevant. From the blurb I just wanted to get to the marriage part and it seemed to take forever to arrive. When it finally did, I was slightly disappointed. Everything felt muted. Emotions weren't strong, situations were too short, details were missed, and things moved too quickly. It was a strange read for me because the first half was too slow and the second half was too quick.
I don't know, maybe I would have felt different if I'd connected with the characters, but Ethan was so closed off. You never really learn anything about him, and then there's Sara who just seemed to go with the flow. After what had happened to her I expected stronger emotions. Her character seemed inconsistent with when she stood up for herself and when she didn't.
As for the ending it all seemed to come out if nowhere. New threads were introduced and I felt they were under developed. Then it just ends. Things are tied up, but not satisfyingly. They're rushed and seem too easy.
Overall this isn't a bad read. I know it doesn't sound like it, but is was a nice little story. It didn't draw any emotion from me and I think the pacing and timeline needs work, but it was okay. Maybe if it was longer and more developed I would have liked it better because the idea was good.