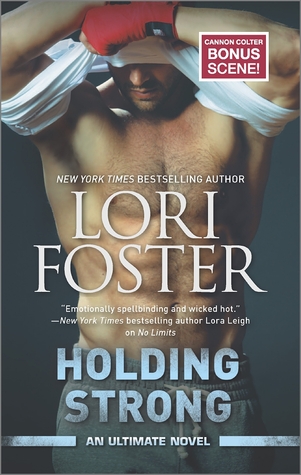 eARC received via NetGalley in exchange for an honest review
Release Date: March 31st 2015
Publisher: Harlequin
Description:
An up-and-coming MMA fighter wants more than just one night from a woman fleeing her past in New York Times bestselling author Lori Foster's irresistible new novel
Heavyweight fighter Denver Lewis plays real nice, but he doesn't share. That's why he's been avoiding top-notch flirt Cherry Peyton. But a man can only resist those lush curves for so long. Their encounter surpasses all his fantasies, bringing out protective urges that Cherry's about to need more than she knows…
Denver's combination of pure muscle and unexpected tenderness has been driving Cherry wild. Yet no sooner does she get what she's been craving than old troubles show up on her doorstep. And this time, Cherry can't hide behind a carefree facade. Because the man by her side is one who'll fight like hell to keep her safe…if only she'll trust him enough to let him…
My Opinion
After loving both the novella and book one in this series, I was thrilled to be accepted for Holding Strong. I'm still really into MMA romances, and even more so when they are a romantic suspense.
Just like with the first one I really enjoyed the story. I thought Cherry had a good mixture of strength and vulnerability, and I also liked how she came to rely and trust Denver. I thought the pacing on this side of things was good, and it made me love Denver even more. Despite being frustrated by her lack of sharing, he stayed by her and was patient. His strength was obvious and he was a moralistic character. I liked that he wasn't the typical 'badboy' who's an asshole. Yeah, he was possessive and a little controlling but it was just the right amount and it was clear--most of the time--it was for Cherry's safety.
Overall I liked the suspense with Carver, Mitty, and Gene. They felt dangerous and unstable, making them believable villains. However, I did feel their story wasn't as fully developed as it could have been, especially the ending. They dipped in and out of things and I would have liked for them to cause more trouble and have had a longer stand off with Cherry. The ending just felt very rushed.
As well as this the start also had the same problem. Denver and Cherry had sex way too quickly, and I wasn't too keen on it. I thought the middle section was good but the start and ending came and went with little detail or build up.
Despite all of that, I still enjoyed this read and I definitely want to read Stack's story next. If you like romantic suspense, with MMA fighters you should check this series out.