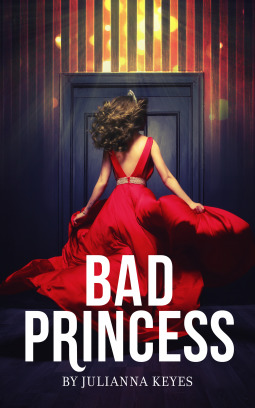 eARC received via NetGalley in exchange for an honest review
Release Date: November 27th 2017
Publisher: Self-published
Description:
Notorious for leaping off roofs, maiming foreign royals, and thattwerking incident, Brinley Cantrella of Estau is nobody's definition of a good princess. She's fearless and bold, not good and gracious. And after a lifetime of being told she's unfit to be queen, wearing the crown and helping to usher Estau into a new era is the one dream she's never dared chase.
But when her older sister abdicates the throne, all Brinley has to do to inherit the role is not twerk, not maim anybody, and definitely not get caught fooling around topless with Prince Finn, her childhood crush, the only man she's ever loved…and her sister's former future husband.
Finn embodies the definition of good. Tall and handsome, serious and honorable, he always does the right thing—including agreeing to marry his ex's sister to cover up this latest scandal. Brinley has fallen down stairs, broken teeth and broken bones, but this is the first time her heart has ever been broken. She now has the crown and the prince, and on the surface, life is good—but is being married to a man everyone swears could never love her back good enough?
My Opinion
First, I want to say I was drawn to this book by the cover, and then when I read the blurb the idea intrigued me. I mean a bad princess sounds intriguing, right? The idea had a lot of potential, but having never read anything by this author before I wasn't sure what to expect. I also knew it was a novella going in, which will be important in a minute so bear that in mind.
In general I liked the concept. The idea behind the story remained intriguing and this story grew on me. I say that because the start didn't exactly hook me. In fact, I read 10% then picked up another ARC by my all time favourite author before deciding to go back to it. The big info dump at the start wasn't the most gripping scene, and there was a lot of telling rather than showing the characters' personalities. I wasn't sure I'd actually pick it back up, but I did and thankfully the more the book developed the better the writing got.
Looking back, I would say I enjoyed this read. However, I did feel it could be so much more. There was so much potential, but the novella length didn't do the idea justice. Remember I said it would be important? Well, I wanted more. Things happened at breakneck speed in this book and while I understand the motives behind the events, it didn't leave a lot of time to develop a relationship. I felt the sparks between the characters but I didn't believe in the love because it had no time to grow. It felt like lust and so the ending didn't align for me.
That's not to say it's a bad thing. I've read enough novellas to know how they're structured, but I grew to enjoy this more than I thought I would after the start and felt it could have been so much more. The concept was bigger and there were so many ideas and scenes that could have been developed rather than been provided in a whistle-stop-tour of Brinley and Fin's life. That's my main issue with this book. It felt like a taster or a prequel to something bigger and I want more. I enjoyed it but I'm not sure it was satisfying.
Overall, it's a short and to the point read. It grew on me more than I thought it would as the plot developed, and I'm glad I stuck with it. I wish it had been longer, but it's a good read to kill a couple of hours with.