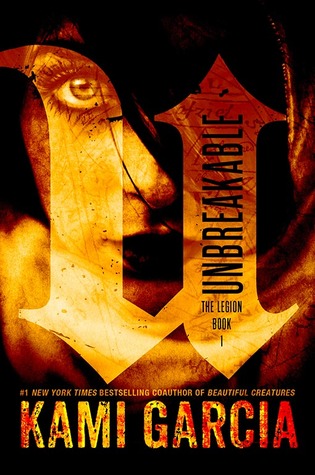 ebook received via NetGalley in exchange for an honest review
Release Date: October 1st 2013
Publisher: Little Brown
Description:
When Kennedy Waters finds her mother dead, her world begins to unravel. She doesn't know that paranormal forces in a much darker world are the ones pulling the strings. Not until identical twins Jared and Lukas Lockhart break into Kennedy's room and destroy a dangerous spirit sent to kill her. The brothers reveal that her mother was part of an ancient secret society responsible for protecting the world from a vengeful demon — a society whose five members were all murdered on the same night.
Now Kennedy has to take her mother's place in the Legion if she wants to uncover the truth and stay alive. Along with new Legion members Priest and Alara, the teens race to find the only weapon that might be able to destroy the demon — battling the deadly spirits he controls every step of the way.
Suspense, romance, and the paranormal meet in this chilling urban fantasy, the first book in a new series from Kami Garcia, bestselling coauthor of the Beautiful Creatures novels.
My Opinion
I'm really not sure to make of this book, but my initial feeling is indifference. I didn't like it but I also didn't not like it, which I know probably isn't that helpful. Because of this, I'm going to keep my review short as I don't have much to say really.
Unbreakable had been on my tbr list for a while so when it came up as 'read now' on NetGalley I had to read it. It sounded like a dark, action-packed read, but I really don't think that's what I got. From the start I struggled to get lost in the world the author created. I found there was action and things happen but I never felt like I was there. I think the main reason for this was I never felt like I got to know the characters properly. There was a lot of things happen in a short amount of time and this led to a lack of detail, and very quick scenes in my opinion. I just couldn't connect with the book, which is probably the cause of my indifference.
Similarly I felt the romantic elements were underdeveloped. Now, I don't mind a love triangle, but because this was more of a secondary plot strand I felt it lacked detail and just came up here and there. I never wanted to vouch for one of the guys and Kennedy felt very indecisive and down about herself for reasons I can't understand.
Anyway, overall it was a book that got better as it progressed, but I don't think it's one for me. I think it would probably suit a younger audience more but for me there wasn't enough detail and everything was a bit too quick and easy. It may work for you if you like this type of thing, but I doubt I'll read the next.