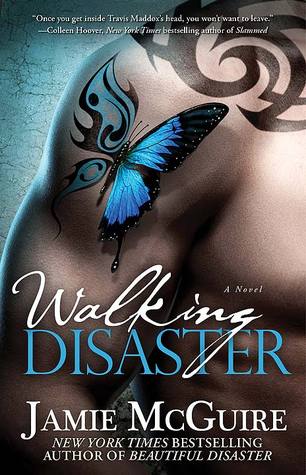 Release Date:
April 2nd 2013
Publisher: Atria
Description:
Can you love someone too much?
Travis Maddox learned two things from his mother before she died: Love hard. Fight harder.
In Walking Disaster, the life of Travis is full of fast women, underground gambling, and violence. But just when he thinks he is invincible, Abby Abernathy brings him to his knees.
Every story has two sides. In Beautiful Disaster, Abby had her say. Now it's time to see the story through Travis's eyes.
My Opinion
Once again I'm glad that I didn't pay for this book but rather borrowed it from a friend. I couldn't bring myself to pay for a retelling, or the novella, and now that I have read both I pleased to say I think I made the right decision. I really don't know how the author managed to release 3 stories about the same thing, but good on her for making it a success, even if it's not for me.
I really liked Beautiful Disaster, but I didn't need to read the exact same story from Travis' POV. Although there were a few scenes that were new, I found myself skimming Walking Disaster a lot when the same conversations arose and we didn't really get any new information. Most of the new sections are Travis and Sheply and you see what went on when Abby wasn't around. I will admit it was nice to get inside his head, but it wasn't anything I didn't know from book 1.
Nevertheless, I did like Walking Disaster, but I think it'd be better to read it as a re-read whereby you would get the same story but a slightly different perspective so it would seem fresh after a period of time. I'm also glad the author has given Travis and Abby a rest and finally moved on to telling the other Maddox brothers' stories so for me, I'd rather read those straight after Beautiful Disaster.