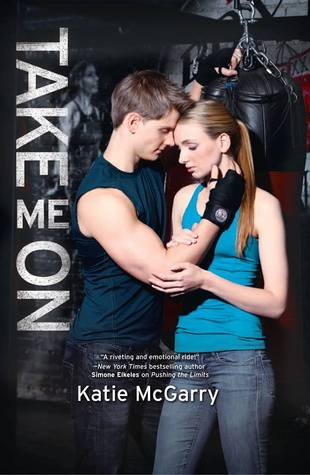 eARC received via NetGalley in exchange for an honest review
Release Date: May 27th 2014 (US) / July 1st 2014 (UK)
Publisher: Harlequin Teen
Description:
Champion kickboxer Haley swore she'd never set foot in the ring again after one tragic night. But then the guy she can't stop thinking about accepts a mixed martial arts fight in her honor. Suddenly, Haley has to train West Young. All attitude, West is everything Haley promised herself she'd stay away from. Yet he won't last five seconds in the ring without her help.
West is keeping a big secret from Haley. About who he really is. But helping her-fighting for her-is a shot at redemption. Especially since it's his fault his family is falling apart. He can't change the past, but maybe he can change Haley's future.
Hayley and West have agreed to keep their relationship strictly in the ring. But as an unexpected bond forms between them and attraction mocks their best intentions, they'll face their darkest fears and discover love is worth fighting for.
My Opinion

I have been waiting for this book since I received an ARC of Crash into You. I have loved every book in this series and so I'm glad to say this didn't disappoint in the slightest. I'm also glad that I was accepted to get a copy from the publisher as I don't think I could have waited for the UK publishing date--seriously, it's so unfair that it's so long after the US.
Anyway, Take Me On had everything I've come to love from this author but best of all it had fighters and MMA in it, which I'm really into at the moment.

When reading Take Me On I couldn't stop. I love everything about Katie McGarry's writing and the love and emotion she puts into her characters and books. She creates a brilliant cast of characters and I enjoy following a different set of people in each books. For me, she creates realistic drama with engaging characters and a captivating plot. I find it easy to connect with the characters and although there are definitely certain stories I prefer, I'm always able to feel for them. West and Haley were no exception. I liked Haley's growth, her strength even when she thought she had none and her heart. Although she had lost her reason to fight, she put her heart into everything from whether it was protecting her family or loving West. It took her a while to trust people but when she did you could see the connection between them even more. She gained my respect throughout the book and my feelings towards her only grew with admiration.

As well as this I liked how West brought her out of her shell. Yes he was hardheaded and stubborn. He was also cocky and came across as a bit of a jerk at times but I still loved him. My heart broke for him that he blamed himself for everything which gave him a real human and down-to-earth side and I didn't see the twist with his family coming. The fact that Rachel was kept in the loop in the background and this book fill the gap between the accident and her learning to walk from West's POV I thought was brilliant.

Moreover the characters worked well in the strong setting of a fighter's world. There was a grittier edge to the book that came from the constant training and kick-ass attitude from the characters but it also gave them a sense of power. It was easy to believe that any one of them could have done serious damage but they all restrained when provoked and helped each other get through it.

Overall, this book had everything I wanted from it. I fell in love with the characters and their story, the book had me right from the offset and it refused to relinquish its hold until I finished it. I highly recommend this series and now start the (probably long) and eager wait until the next book in this series is released!