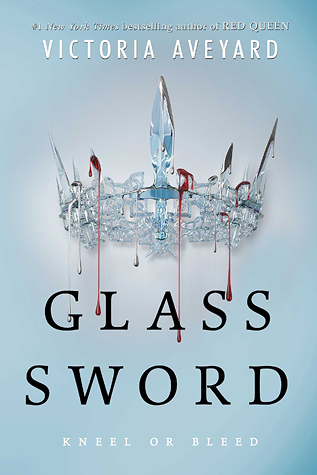 eARC received via NetGalley in exchange for an honest review
Release Date: February 11th 2016
Publisher: HaprerTeen
Description:
Mare Barrow's blood is red—the color of common folk—but her Silver ability, the power to control lightning, has turned her into a weapon that the royal court tries to control.
The crown calls her an impossibility, a fake, but as she makes her escape from Maven, the prince—the friend—who betrayed her, Mare uncovers something startling: she is not the only one of her kind.
Pursued by Maven, now a vindictive king, Mare sets out to find and recruit other Red-and-Silver fighters to join in the struggle against her oppressors.
But Mare finds herself on a deadly path, at risk of becoming exactly the kind of monster she is trying to defeat.
Will she shatter under the weight of the lives that are the cost of rebellion? Or have treachery and betrayal hardened her forever?
My Opinion
I was excited to read Glass Sword when I saw it up on NetGalley. I really enjoyed the first instalment and was therefore eager to see how the plot developed. Unfortunately, I didn't grow to love this book as much as I thought I would. I wanted to like it and it's not the book's fault, I think my tastes have changed since book 1's release and this happens to be a genre I've fallen out of love with for now.
For that reason I'm not going to say too much on this book. I skimmed the last 50% curious to see how Mare's fate unfolded, but it just felt so similar to everything else in the genre that I flicked even more as I went on.
If you like this genre and enjoyed the first book you will probably still like Glass Sword. For me, I don't think I'll be reading more. The genre doesn't have anything new to offer me.