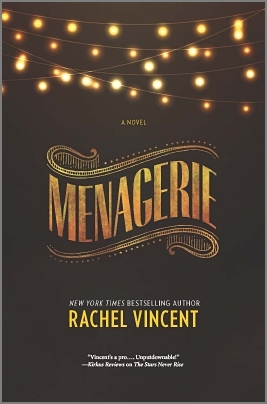 eARC received via NetGalley in exchange for an honest review
Release Date: September 27th 2015
Publisher: MIRA (Harlequin)
Description:
When Delilah Marlow visits a famous traveling carnival, Metzger's Menagerie, she is an ordinary woman in a not-quite-ordinary world. But under the macabre circus black-top, she discovers a fierce, sharp-clawed creature lurking just beneath her human veneer. Captured and put on exhibition, Delilah in her black swan burlesque costume is stripped of her worldly possessions, including her own name, as she's forced to "perform" in town after town.

But there is breathtaking beauty behind the seamy and grotesque reality of the carnival. Gallagher, her handler, is as kind as he is cryptic and strong. The other "attractions"—mermaids, minotaurs, gryphons and kelpies—are strange, yes, but they share a bond forged by the brutal realities of captivity. And as Delilah struggles for her freedom, and for her fellow menagerie, she'll discover a strength and a purpose she never knew existed.

Renowned author Rachel Vincent weaves an intoxicating blend of carnival magic and startling humanity in this intricately woven and powerful tale.
My Opinion
This book has me stumped ... but in a good way ... I think.

As many of you who follow my blog will know, Rachel Vincent is one of the first authors I discovered. I love her work and have read it all. Therefore I was excited to read Menagerie. I knew it was going to be different--more adult in content and no romance--but I felt I owed it to the author to stick with her and see what she came up with. I will admit I was a little wary after reading The Stars Never Rise. It wasn't my favourite by this author, but one out of all of her releases isn't a bad score so I gave Menagerie a go.

I will admit, the first 50% was touch and go. Parts were great to read and then others felt too slow. The concept intrigued me, but my attention drifted around the 25% mark. If it wasn't for this author's previous record I probably would have considered giving up.

However, there is something I can only describe as weirdly fascinating about Menagerie. I can't put my finger on what it is because even in the slow sections I wanted to read on. This book shouldn't have worked for me on quite a few levels, but it compelled me to read on. Once I got over the halfway point, too, things picked up and I sped through the rest of the book.

I'm not going to go into much detail about the story or characters because I think this is a book you need to experience. I really can't sum it up in a few words as there's so much detail to the vast cast. The author did a great job of keeping track of everyone and characterising them.

Overall it's a book you need to read. It's a weirdly fascinating, dark look at humanity and there's something compelling about it. Yes, it's different to all of her other books, but it works. If you've supported this author don't let that fact put you off and if you've never read anything by her, I'd recommend this and her other novels.