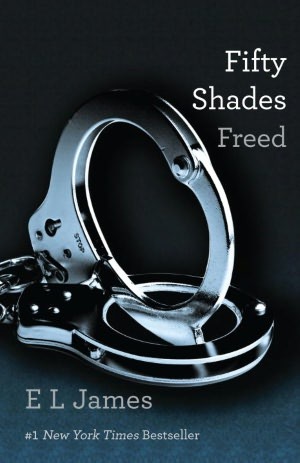 Bought by myself
Description:
When unworldly student Anastasia Steele first encountered the driven and dazzling young entrepreneur Christian Grey it sparked a sensual affair that changed both of their lives irrevocably. Shocked, intrigued, and, ultimately, repelled by Christian's singular erotic tastes, Ana demands a deeper commitment. Determined to keep her, Christian agrees.
Now, Ana and Christian have it all—love, passion, intimacy, wealth, and a world of possibilities for their future. But Ana knows that loving her Fifty Shades will not be easy, and that being together will pose challenges that neither of them would anticipate. Ana must somehow learn to share Christian's opulent lifestyle without sacrificing her own identity. And Christian must overcome his compulsion to control as he wrestles with the demons of a tormented past.
Just when it seems that their strength together will eclipse any obstacle, misfortune, malice, and fate conspire to make Ana's deepest fears turn to reality.
My Opinion
Well, I never imagined myself getting to this point. Reading book one was curiosity because of the trailer, and I never expected to continue with book 2 and 3 having heard everything bad about this series. I didn't think it was for me, but I'm surprised to say that's I've read all three books in a matter of days. The character were captivating and I loved how their story evolved and progressed--especially with the danger and threats, which is not something I would have expected before picking them up. I don't think I'll be listening to bad reviews again, but rather making my mind up on a series because this one definitely turned out to be better than I expected.