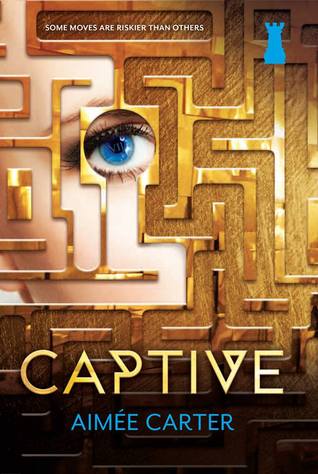 eARC received via NetGalley in exchange for an honest review
Release Date: Dec 1st 2014
Publisher: Harlequin UK
Description:
For the past two months, Kitty Doe's life has been a lie. Forced to impersonate the Prime Minister's niece, her frustration grows as her trust in her fake fiancé cracks, her real boyfriend is forbidden and the Blackcoats keep her in the dark more than ever.
But in the midst of discovering that her role in the Hart family may not be as coincidental as she thought, she's accused of treason and is forced to face her greatest fear: Elsewhere. A prison where no one can escape.
As one shocking revelation leads to the next, Kitty learns the hard way that she can trust no one, not even the people she thought were on her side. With her back against the wall, Kitty wants to believe she'll do whatever it takes to support the rebellion she believes in—but is she prepared to pay the ultimate price?
My Opinion
I requested Captive instantly when I saw it up on NetGalley. After reading Pawn earlier this year and being introduced to this author's work I had to see how the series was going to unfold, and I wasn't disappointed. I think Captive was much better than Pawn, and I enjoyed book 1.
Captive is a tense book full of secrets, twists, uncertainty, and gritty realistic violence. I think the author did a brilliant job of creating an interesting start whilst relaying previous information that meant I could jump straight into the sequel without having to skim book 1 to remember what happened. She weaves tidbits of information in well so they feel like they are naturally part of the story and not info dumps.
Similarly, the book itself is captivating. It's full of drama and action and I can't pick out one moment where it dragged. It leaves you in a constant state of wonder where you are trying to stay one step ahead of the characters and figure out what is really going on. However, I think Aimee Carter develops everything incredibly well so that you can't second guess anyone. Of course you have suspicions but the plot unfolds as you read on which is a nice change from having predictable reads.
Moreover I liked the character development in Captive. Kitty comes into her own and grows in strength and defiance. I liked how she's a strong female lead, and she feels believable--like she could be the one to lead a rebellion. I'm still not sure about Knox because of all the secrets and lies, but I think the author has created a great complex character in him that you can both like and hate. I think I'm slowly coming to like him, but I'll have to wait for book 3 to fully make my mind up.
There is only bad things I have to say and that's I don't like the British cover at all--it doesn't fit! But at least the part that counts is great.
The last thing I'll say about this book because I don't want to give away too much is that I'm glad the relationships aren't the main focus of the book. In Pawn I thought a love triangle was going to emerge (I have nothing against them, I really enjoy them, but don't think it fits this read) so I was surprised to find that nothing like that happened and it was more of a secondary plot the romance.
Overall this was a great sequel that I think bettered the first. It's a lot more violent than I expected, which was great as it creates a believable, gritty story that keeps you hooked.