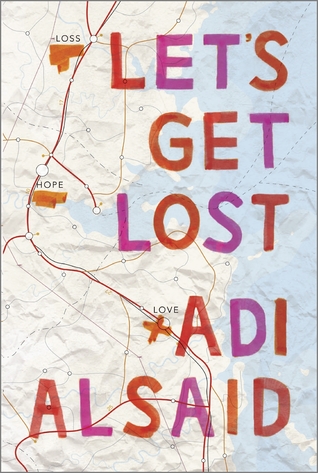 eARC received via NetGalley in exchange for an honest review
Release Date: August 1st 2014
Publisher: Harlequin Teen
Description:
Five strangers. Countless adventures.One epic way to get lost.
Four teens across the country have only one thing in common: a girl named LEILA. She crashes into their lives in her absurdly red car at the moment they need someone the most.
There's HUDSON, a small-town mechanic who is willing to throw away his dreams for true love. And BREE, a runaway who seizes every Tuesday—and a few stolen goods along the way. ELLIOT believes in happy endings…until his own life goes off-script. And SONIA worries that when she lost her boyfriend, she also lost the ability to love.
Hudson, Bree, Elliot and Sonia find a friend in Leila. And when Leila leaves them, their lives are forever changed. But it is during Leila's own 4,268-mile journey that she discovers the most important truth— sometimes, what you need most is right where you started. And maybe the only way to find what you're looking for is to get lost along the way.
My Opinion
I've been struggling to decide what to rate this book and what to write for a review but I think I've finally made my mind up and put my thoughts into some logical order ... yeah, I think I have... Let's Get Lost has confused me as, although parts of it were what I was expecting, there was a lot that was different to what I assumed the book would be. Sometimes this was good, but sometimes this was also a bit frustrating.
I requested Let's Get Lost because it sounded like a good, contemporary read for the summer. It had a road trip promised with meetings that would take place a long the way and whilst it lived up to the summery read, I felt let down by the road trip aspect that was virtually nonexistent. I assumed that Let's Get Lost would follow Leila on her journey to Alaska and her experiences as she met people along the way. I also hoped that somehow the characters she meets would somehow link at the end and meet each other. This just wasn't the case though. Rather than follow Leila, this book is written in
five separate sections where Leila has already arrived at another location and has decided to help another person. I missed the road trip aspect.
Saying that, though, I did like the five sections. Adi Alsaid did a good job of fitting a lot into each story and making everything clear and easy to follow. The characters were introduced well and constructed so that they were believable and easy to understand. I can't go as far as to say I connected with them as the sections were too short for that, but I enjoyed the small glimpse into their lives as they all struggled with something. I think Elliot's story was definitely my favourite.
As well as this, I liked that what Leila was running from wasn't revealed until the end. I knew there was more going on to her story than just wanting to see the Northern Lights but I was unsure what had happened to make her run. It kept me reading in hope that there would be a section on her at some point and I'm glad there was as my favourite section was at the campsite with Dee--it made me smile.
The only thing I didn't like about the ending was that it didn't feel natural. Of course I wanted a HAE because I hate books without them so on one hand it was good, but on the other it just seemed rather random and unrealistic. As you can see, I'm trying not to give it away so I'll just leave my comments on the ending at that as I don't want to spoil it for anyone.
Overall, Let's Get Lost was a good summery read. It was quick and the author did a good job of creating the characters in such a small space. However, I wished there was some interaction between the people she met and that there was more detail on the actual road trip side of the book. It felt more like 4 short stories in a standalone series rather than a novel for me. If you like contemporary teen fiction though, this might be one you should try.