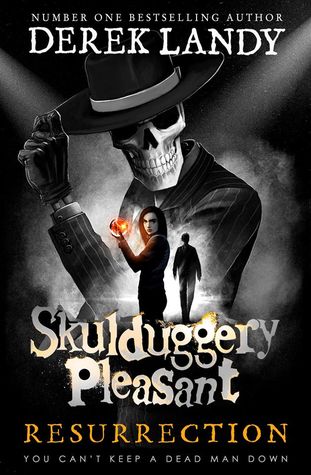 eARC received via NetGalley in exchange for an honest review
Release Date: June 1st 2017
Publisher: HarperCollins
Description:
The skeleton detective is coming back to life… again! It's the tenth, triumphant novel in the Skulduggery Pleasant series, and it will rearrange your world.
Skulduggery and Valkyrie are back in the tenth instalment in the bestselling Skulduggery Pleasant series – an incredible and unexpected treat for the legions of fans around the world.
We can't say much but we can say this: Skulduggery and Valkyrie are going to team up with beloved characters from the first 9 books as well as an all-new cast, including new teen co-star Omen Darkly, for an adventure that takes the story to truly global proportions… while answering questions that go right back to the beginning.
And Derek says this: "I was halfway through Last Stand of Dead Men, I think, when I realised that I had more stories to tell. I told myself that if Skulduggery and Valkyrie survived the series, I would leave the option open of returning to their world. There were still secrets I need to reveal, after all, and there were still horrors they had to face. They survived the first series. But they're really going to wish they hadn't."
My Opinion
I didn't find out about this book right up until the release day. I had thought this series had ended, and I missed Skulduggery since I didn't enjoy Landy's Demon Road series as much. Therefore, when I saw this book--after much double checking to make sure I hadn't read something wrong and got my hopes up for nothing--I squealed with excitement. Because Skulduggery Pleasant is back!!
I have missed reading these books so much. Landy's humour and wit is unlike anything I've read before, and it never fails to put a smile on my face. I've said it before, but even his dedications make me chuckle. When all of this is combined with the skeleton detective's fast-talking, quick-witted, and comically arrogant personality it just creates a character I want to read more about.
Once again, there are more baddies to face in Resurrection. There are new friends, old friends, and new enemies that turn up as Valkyrie and Skulduggery are left to save the day. Some of the characters are also still tormented by the past events of the final book in the previous section of this series. And since Resurrection starts five years after that, it allowed for some growth in the characters and for a new dimension to form in the relationships. The characters might be older, but they're just as good.
Overall, if you've followed this series, this book will have everything you want and have come to love from it. Action, humour, magic--it held my attention well and I couldn't put it down. I'm so glad this author has decided to continue this series with this book.