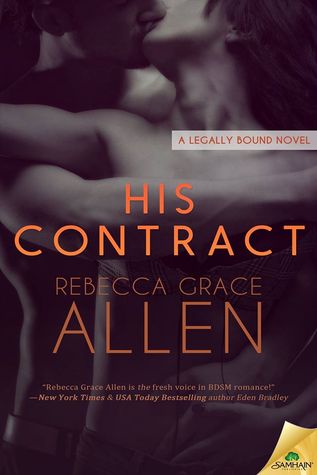 eARC received viaa tour company in exchange for an honest review
Release Date: November 10th 2015
Publisher: Samhain Publishing
Description:
Lawyers know when to play by the rules…and when to break them.

Legally Bound, Book 1

Harvard law professor Jack Archer once balanced his professional life with the private world of dominance, surrender and trust he shared with his wife. Since cancer stole her a year ago, finding love again—her final wish for him—is the furthest thing from his mind.

From his empty house to the classroom, grief follows his every move. Until he meets a young woman with shadows in her eyes even darker than his own.

Once a shining star at law school, Lilly Sterling's dreams died when the Dom she trusted left her heartbroken and lost. She's starting fresh in a new city as a paralegal, but meeting Jack reawakens all her old demons—and her lingering desires.

Jack offers to become Lilly's mentor for both the courtroom and the playroom, but tells himself it's not a relationship. Their carefully worded agreement guarantees that. But when their trial agreement starts heating up, both Jack and Lilly must decide what will tip the scales: the letter of the law...or love?

Warning: All rise for a book that contains a wounded submissive and a Dominant who wants to retrain her while retaining control of his heart. Discovery phase may involve spankings, bondage, edging, and blindfolds. Is it hot? You be the judge.
My Opinion
I wasn't sure what I was going to be faced with from this author, since I've not read any of her previous work. However, I was pleasantly surprised and enjoyed this read.

His Contract was a slow building, captivating romance of dominance and submission. It held my attention well and I found it hard to put down in the end.

I thought Jack and Lilly were intriguing characters. The author made me sympathise with Jack right from the first page and I thought his journey of growth was believable in its pace. I also thought he was a great guy. He pushed Lilly's limits and helped her through her fears, but he was also gentle and caring. I believed in his feelings towards her.

Similarly, I thought Lilly was a well rounded character. I would have liked Damien to be more involved than just the last 20% because that side of things felt a little underdeveloped. However, I found her an easy character to like and engage with.

The only thing I have a slight complaint about is the length. Sometime it felt the book dragged and became repetitive. There were scenes I wanted more from that only had a couple of pages, and then there were ones that just went on and on, which felt like they were rehashing old plot lines.

Overall though, a good read. It drew me in and was well written. The balance between emotion and sex was good and it was an enjoyable book.
4