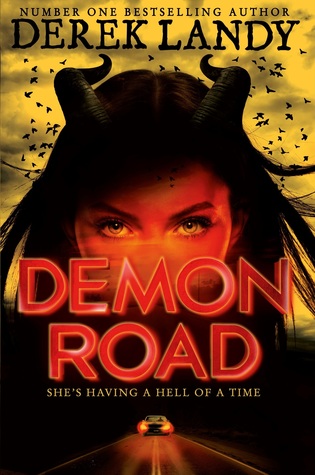 eARC received via NetGalley in exchange for an honest review
Release Date: August 27th 2015
Publisher: Harper Collins
Description:
Full of Landy's trademark wit, action and razor sharp dialogue, DEMON ROAD kicks off with a shocking opener and never lets up the pace in an epic road-trip across the supernatural landscape of America. Killer cars, vampires, undead serial killers: they're all here. And the demons? Well, that's where Amber comes in...Sixteen years old, smart and spirited, she's just a normal American teenager until the lies are torn away and the demons reveal themselves.
Forced to go on the run, she hurtles from one threat to another, revealing a tapestry of terror woven into the very fabric of her life. Her only chance rests with her fellow travellers, who are not at all what they appear to be…
My Opinion
I've been looking forward to this ever since I finished the final book in the Skulduggery Pleasant series. That series is one of my favourites and I was interested to see where Derek Landy took his writing next.
However, and it pains me to say this, but I just didn't connect with this story. I really cannot place my finger on why as his usual humour, action, and easy-going writing shone through and translated across to this book well. It's strange because everything I loved was there, except I didn't engage with it. From around 57% I began skimming. If it was by any other author I'd have probably marked it as DNF. However, I wanted to give Landy a chance to win me back as I've loved his previous work. Sadly, I found myself skimming more.
This is going to sound odd, but I think it was too similar to Skulduggery. I know that sounds like it should be a good thing if I love that series, but I can't help but feel it's bad. Some of the characters felt too similar in their attitudes and I guess I was just after something different. They weren't the characters I loved, but they felt like they were trying to be.
Saying all of that, I don't think this is a bad book. I think this is a personal issue I had with the story and it may work for you. If you've loved Landy's other work I'd definitely recommend giving this a chance.