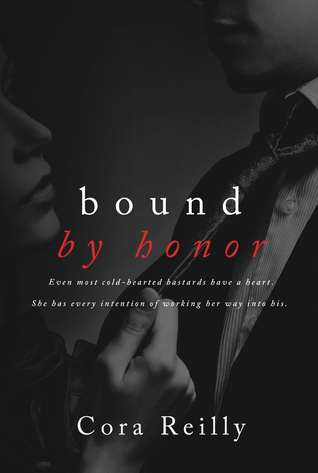 ebook downloaded for free via Amazon
Release Date: December 14th 2014
Publisher: Self-published
Description:
Born into one of the leading Mob families in Chicago, Aria Scuderi struggles to find her own path in a world where no choices are given. Aria was only fifteen when her parents betrothed her to Luca – The Vice – Vitiello, the oldest son of the head of the New York Cosa Nostra to ensure peace between the two families.
Now at eighteen, the day Aria has been dreading for years is looming dangerously: her wedding to Luca.
Aria is terrified of marrying a man she hardly knows, especially someone like Luca who got his nickname 'the Vice' for crushing a man's throat with his bare hands. Luca might be one of the most sought after men in New York thanks to his good looks, wealth and predator-like charisma that radiates power, but the society girls throwing themselves at him don't know what Aria does: that the bad boy aura isn't just a game; blood and death lurk beneath Luca's striking gray eyes and arrogant smile.
In her world a handsome exterior often hides the monster within; a monster who can just as easily kill as kiss you.
The only way to escape the marriage to Luca would be to run away and leave everything she's ever known behind but Aria can't bear the thought of never seeing her family again.
Despite her fear, she decides to go through with the marriage; Aria has grown up among predators like Luca and knows that even most cold-hearted bastards have a heart and she has every intention of working her way into Luca's.
My Opinion
I downloaded this for free when I saw it up on Amazon. Since I was flicking through my Kindle to look for something darker, this seemed perfect. I've never read anything by this author before so I wasn't sure what I'd get, but I was pleasantly surprised.
Bound by Honor is a darker mafia read--then again you don't really get lightheartedness with the mafia. It revolves around Luca and Aria's arranged marriage and how they grow as husband and wife.
I will admit I thought the start was a bit slow. I really just wanted them to get married and for everything to kick off. When Aria was fifteen it seemed kind of weird. Anyway, once they finally get married things picked up and I couldn't put the book down. I thought the balance between monster and husband was struck well in Luca and that his transformation was nicely paced and developed. He wasn't all bad with Aria and he did care even if he didn't want to admit it. Similarly, although Luca scared Aria, she still put him in his place and made him wait. For that I respected her.
As for the plot, for the most part it was a great read. My only problem is the ending with the Bratva. I'm not sure if the problems between New York and the Russian families continue into the next book since the main character change. If they do then I don't have an issue. If they don't then I feel everything wasn't completely resolved on that side on things in this book. Either way, I guess I'll have to read book 2 to find out.
Overall, this book surprised me. It was both dark and tender and I couldn't put it down.